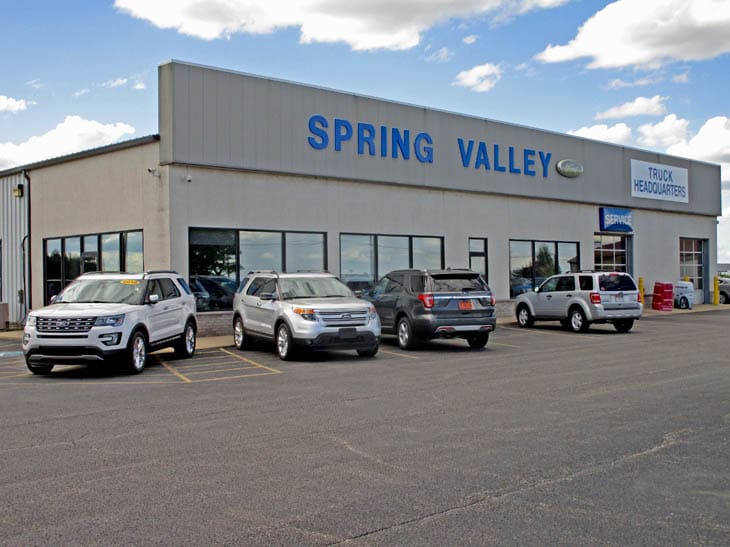 Our Dealership company started in 1939 in West Brooklyn, Illinois as a garage & service station. It sold Pontiac & Dodge, along with Conoco fuels through Central Oil Company in Mendota. the Business was founded by Harry Schimmer & Operated until January 1942.
The service business was moved to Mendota in early 1942, In partnership with Jack Klinefelter. In June of 1945, the dealership was moved to the corner of Sixth Street & Sixth Avenue in Mendota & again operated as a Pontiac dealership & a Standard Oil gas station. Don Schimmer joined his father, Harry, in the dealership operation.
In June of 1949, the dealership was move to 1503 Washington Road in Mendota. In June of 1950, Don Schimmer became the operator of the business. From 1958 to 1960, the dealership sold Voxhaul automobiles in addition to Pontiacs at the Washington Rd location. In November of 1979, Schimmer's acquired the Buick & Oldsmobile franchises from
 Harvestside Chevrolet & combined the old Harvestside Chrevrolet building with the Pontiac/Olds/Buick operation.
In June of 1984, Jeff Schimmer joined his father in the dealership operation. in 1988, Dona Schimmer-Scharff also joined. In 1989, a new dealership location was established on Route 251 south of Mendota. 
In October 1991, our Peru dealership was added, selling Ford, Lincoln & Mercury vehicles. In 2001, Hyundai vehicles were added to the lineup. Valley Ford in Spring Valley was purchased by the Schimmer Group  in 2001, becoming Spring Valley Ford, & R&R Ford in Mendota was purchased by the Group in 2012, becoming Mendota Ford.
Our dealerships put a specific focus on customer service: Being a part of a small community for so long means we absolutely must maintain the highest level of service, respect of our customers, & to make sure we provide a great experience, in every part of our operation!
That's why we want to say Thank You! to all our customers!