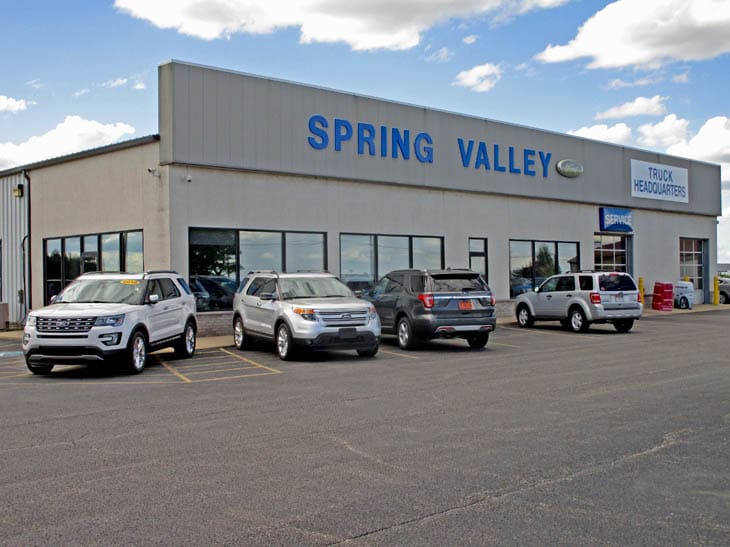 Our Dealership Family started in the 1930's in West Brooklyn, Illinois as a garage and service station. We sold Pontiac, Dodge and Conoco fuels through Central Oil Company in Mendota, Illinois. Harry Schimmer established and operated in West Brooklyn until January 1942.
In January of 1942, we moved our service business to Mendota. By June of 1945, our dealership was moved to the corner of 6th Street and 6th Avenue in Mendota and operated as a Pontiac dealership and Standard Oil Station. Don Schimmer joined his father, Harry Schimmer, in full-time employment in June of 1947. Harry Schimmer, our long-time owner passed away in November of 1970.
In June of 1949, we moved once more to 1503 West Washington Street in Mendota. Don Schimmer was named Dealer Operator at just 21 years old in June of 1950. From 1958 to 1960, we sold Voxhaul automobiles in addition to Pontiac at the Washington Street location. Don Schimmer acquired both Buick and Oldsmobile franchises from Widmer & Sons in 1979 and subsequently acquiring the Chevrolet franchise from Harvestside Chevrolet in 1982.
Jeff Schimmer joined his father, Don Schimmer, full time at the dealership in June of 1984. Jeff Schimmer was named Dealer Operator in 1986 at just 22 years old. Dona Schimmer Scharff joined the dealership with Don and Jeff Schimmer in 1988. Don Schimmer, long-time dealership owner, passed away in October of 2008.
In 1989, Schimmer Chevrolet Buick established our current location at 1501 S 13th Avenue in Mendota, just south of town on Route 251. Here we built a brand new facility that would eventually become the heart of the four Schimmer dealerships owned and operated by Jeff Schimmer. The location's unique design was created by Jeff Schimmer with the assistance of Phalen Steel in Mendota.
Jeff Schimmer went on to purchase the Ford Lincoln Mercury dealership from Riverside Ford in Peru, Illinois in 1991. The Hyundai franchise was later added in 2001 and a brand new facility was built. Schimmer Ford Lincoln Hyundai, Inc., continues to operate at the corners of Shooting Park Road and Marquette Road in Peru.
In 2009, Jeff Schimmer acquired Valley Ford in Spring Valley, Illinois and named it Spring Valley Ford. An additional Ford dealership was added a few years later when Jeff Schimmer purchased R&R Ford in Mendota. Mendota Ford operates at the same location directly next to Schimmer Chevrolet Buick on Route 251.
In 2020, we expanded and undertook a substantial service expense to establish Schimmer Truck Center at the Schimmer Chevrolet Buick Mendota location. The addition of Schimmer Truck Center allows Schimmer Chevrolet to specialize in the complete sales, service, parts and upfits of Medium Duty trucks, vans, etc.
Belonging to a small community for such a long time means we absolutely must maintain the very best level of customer service around. We strive to provide only the finest experience out of respect for our employees, customers, families and community! Continuous operation of our Schimmer Dealeships since 1945 has provided us with 80 years' worth of knowledge, lessons and principles passed down from generation to generation.