An Award-Winning Ford Dealership in Princeton, IL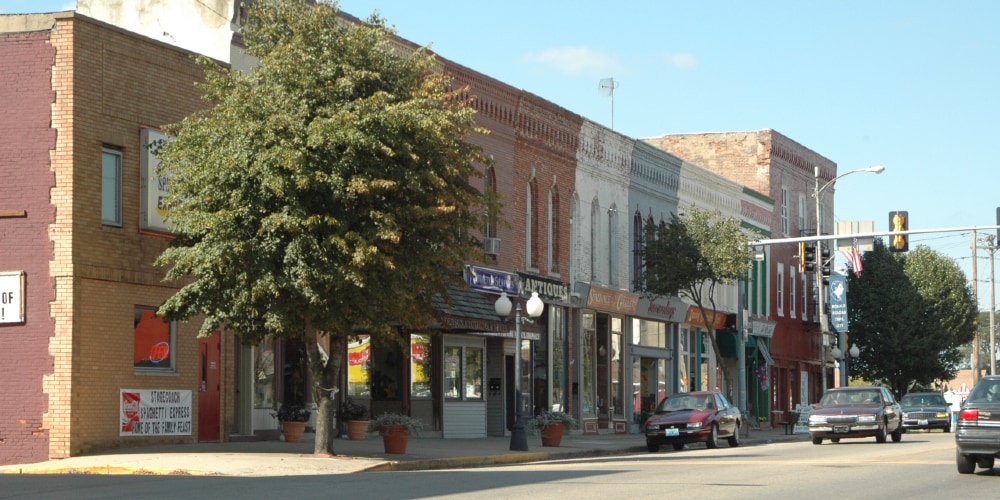 For years, Spring Valley Ford has been one of the best Ford dealers near Princeton for all your car buying needs. The expertly trained staff at Spring Valley Ford use their experience and wealth of knowledge to take all the stress out of the car buying process and make getting you in your new car an easy and enjoyable experience. We pride ourselves in having one of the widest ranges of new and used Ford SUVs near Princeton, and we are always prepared to help and answer any of the questions you may have along the way.
What Makes Spring Valley Ford Stand out from the Competition 
Here at Spring Valley Ford, we understand that you have a large array of options for purchasing Ford trucks near Princeton. That is why we offer many unique services to make ourselves the go-to Ford dealership in Princeton, IL. Spring Valley Ford offers excellent value for trading in your new or used auto with us. 
Are you sick and tired of driving around the same old vehicle? Well, let us offer you a quote on that old car you are driving around and you will be met with one of the most competitive trade-in quotes of all the Ford dealerships in Princeton, IL. Once you have traded in your old vehicle, put that money towards a vehicle you are proud to drive. You will have quite the selection to choose from as Spring Valley Ford has one of the largest new and used car selections in the area, including one of the largest selections of Ford SUVs near Princeton. 
Can't decide on what vehicle to purchase? Let one of our non-commissioned sales representatives help you by listening to your questions to make the best vehicle decision for you and your needs. We pride ourselves in paying our sales consultants the same amount of money for each vehicle they sell. This helps take the stress off you as the customer to ensure that you drive away in the vehicle that makes the most sense for you, not the vehicle that will make our sales representative the most money.  
Financing 
Once you have decided on the vehicle that best suits you, stop over to the department that was voted as one of the best Ford dealerships in Princeton, IL for financing. We have an array of financing options including flexible terms, no payment for 90 days, and a beat-the-rate program. Our beat-the-rate program is the crown jewel of our financing department and is a testament to our love and support of our customers. Our beat-the-rate program states that if you bring in any offer from a competing dealership or financial institution, we beat that rate by 0.25%, as low as 1.99% as a show of appreciation for your business.  
Service with a Smile 
After you have purchased your car with Spring Valley Ford, make the choice to get your vehicle serviced by one of the best service departments of Ford dealerships in Princeton, IL, with a fully trained department of excellent service technicians that will get you back on the road in no time whether you need a quick oil change or a tire rotation, we have you covered. And while you are waiting, enjoy your choice of items in a fully stocked fridge with soda, water, freshly baked goods, and freshly made coffee.  
Stop on down and Say Hello 
We are excited to meet you so stop on down to our Ford dealership in Princeton, IL and say hello. Please see our hours of operation above for the best time to come in and see what we offer you. We can guarantee we will greet you by one of our excellent staff members who can show you why we are your go-to Ford dealership in Princeton, IL.
Frequently Asked Questions
Why Should I Visit a Princeton Dealership Online?
Most people find it easier to check the online inventory before they head to the showroom. You get the benefit of using voice search if your smart device offers it and can check out the associated accessories and feature availability without having to visit our location.
In fact, we provide an optimal website experience so that you can see what's available. Check the new car inventory to see our new retail delivery options. 
While our salespeople are happy to help you find the perfect cars, we know that you want to take your time. It's often hard to do that when you're bombarded with questions. Overall, it's easier to access the website first!
Can I Find a Silverado HD or Corvette at Schimmer Ford?
We have a wide range of vehicles available for sale. While we're a Ford dealership, that doesn't mean we don't get new retail delivery for Chevrolet, Buick, and other brands. Generally, we go the extra mile so that you leave the showroom completely satisfied. Visit the location in Princeton today to access great service and excellent lease/buy terms.
Do You Offer New and Used Vehicles?
Yes! You can search for trucks, cars, and SUVs to get important information about used and new models available. We are dedicated to providing you with the best experience possible! In fact, our customers love that we offer finance options and keep the price low.
Search for your favorite truck or SUV from your browser. We allow you to filter the results based on price, body style, and other selections. Request a meeting with a salesperson to get answers to your questions when you're ready. Plus, you can schedule service online so that you don't have to wait until our normal business hours at the Princeton location.
Why Should I Choose Your Service Department for Maintenance?
It's generally safer to go to a dealer when maintaining or repairing a vehicle. We only employ factory-trained technicians who understand the intricacies of each type available.
Likewise, we use OEM components. Original Equipment Manufacturer parts are the best choice because you know they're compatible with your model. Many times, there's a limited supply, so you might not be able to buy them yourself, but a dealer always has them and is committed to proper installation.
If you live in Princeton, we're close by. There's no need to travel out of your way to find a mechanic. Plus, we always honor the manufacturer's warranty that comes with new cars. In fact, we're just a short drive from your location and always care about our customers. Our excellence comes from the details!
Can I Finance With Schimmer Ford?
We can help you finance your new or used purchase! As your Princeton dealer, we're glad to work out a contract that meets your needs and often get other offers from banking institutions. Whether you hope to lease or buy outright, we ensure that you get the important information necessary to make the best decision!
Explore our inventory online and access the features shown without stepping foot into the showroom!